"The Corniche: The Representation of Doha's Waterfront and Its Institutional Buildings," Essay Chapter in Urban Modernity in Contemporary Gulf: Obsolescence and Opportunity book (2021) edited by Sultan Al Qassimi and Roberto Fabbri.
On the night of the February 22, 1982, the Sheraton Grand Doha Resort & Convention Hotel opened its doors to the residents of Qatar. The former ruler of Qatar, Sheikh Khalifa bin Hamad Al-Thani, and his advisors in addition to pioneering prime ministers, leaders, and respected officials of the Gulf region attended the official opening of the hotel. The ceremony was grand and broadcasted on national Qatari TV. The show host described the programs and facilities of the hotel, including a bowling alley, health and fitness centre, multiple tennis courts, swimming pool, gift shops, restaurants, multipurpose exhibition space, and convention centre. Toward the end of the broadcast, the camera zooms out to capture an aerial view of the hotel, glistering in light on an empty land. Built on a reclaimed coastline, the hotel served to reflect the nation's progress towards independenc and political autonomy from British rule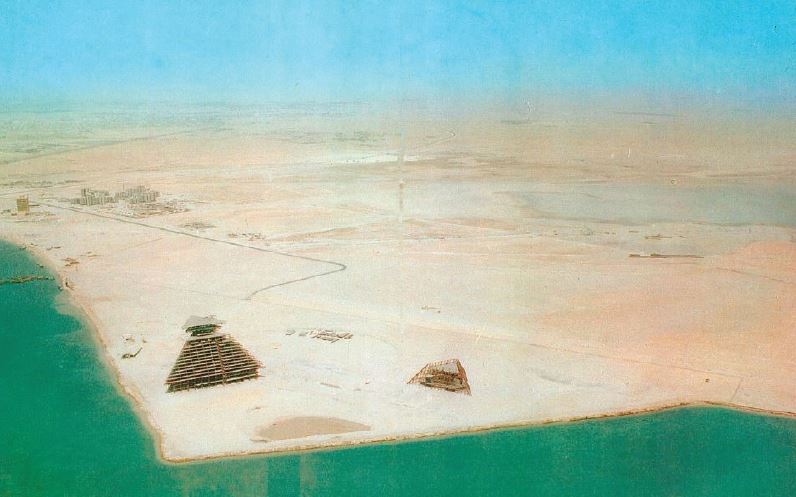 Many residents likened the hotel to a spaceship that had slowly landed on a new reclaimed area, known as Al-Dafna (Arabic for 'the buried') district, and inaugurated the development of the Corniche.
[i]
One observer was Sophia Al-Maria, the American-Qatari artist and filmmaker, who narrated an account wherein the hotel as a "mothership", a "herald of the future and a promise to the past", in her dystopian fictional memoir.
[ii]
In the novel
The Girl Who Fell to Earth
, Al-Maria portrays the Sheraton as a luxurious monument that represents the onset of Doha's modernization period. These two different modes of documentation, the televised and the fictional, reflect the ways in which the Sheraton was a microcosm of Doha as a modernist city emerging in the 1970s. Throughout the late twentieth century, the state of Qatar was committed to the modernization of the Corniche that accompanied the construction of the Sheraton.
[iii]
Whereas the existence of a nation requires geographical boundaries and borders, it is crucial to situate the nation as a set of ideas, processes, and power relations in my analysis and to identify how architecture was an essential medium in the production of the nation and its architectural landscape. With that goal, I situate the reclamation project as at once a nationalist and a futuristic endeavour, one that endured the city's incongruous development.
I would like to thank Eva Schreiner and Ziad Jamaleddine for reading and providing generous feedback in the first draft of the paper. Sultan Al Qassemi, Roberto Fabbri and Trinidad Ricco gave insightful comments and critiques of various drafts of the chapter. Lastly, I would like to express my deep gratitude to Fatma Al Sehlawi for sharing the pictures and materials used for the research.